The USADA report has changed so much in cycling. I for one welcomed the damning of Lance Armstrong, the downfall and final stripping of his seven cheated Tour de France Titles. I've read so much into this man now that my head is swimming with endless information. I've trawled the countless arguments on the forums and sat and watched as the pro Lance arguments have become more desperate in his defence.


There was nothing in the USADA report that was not already known, it was interesting certainly but much of the information I've touched on here before. Perhaps it was the extent of how much he pushed other riders into doping that caused most alarm but it was no shock to me. My opinion of Lance was never that great, I had already deemed him a bully so this was still not news. Everyone just suddenly seemed so shocked by it all, I can only assume these people never read much into the subject and had to have it written out chapter and verse for them to get it.
I can say though it did change the hearts of many. One of my friends who I've clashed on on a many of occasions was still strongly defending him before the report, claiming defence of hearsay, bad witness' etc. Armstrong to him was an inspiration as a cyclist. He went quiet for ages and I was surprised one day when he announced his feelings of sadness and having been totally let down by his hero. He had come around, and instead of feeling smug I actually felt for him. I had long excepted him as a cheat but for those that truly believed it must be so much of a let down.
I would say justice is done and the Armstrong has been rightfully stripped of his Titles and at time of writing his Olympic medal from Sydney is also under threat.
So what has this all meant. Where does that leave pro cycling and its future? Certainly, the focus has now shifted away from lance and moved onto the UCI. This is a good direction to take as the UCI is rotten to the core and we can't have the top end of cycling run by those who aren't proactive in taking stronger measures against doping. We need a new President to replace Pat "Dick" Mcquaid. I find myself a little sympathetic of his rule at times. He has wanted to prove the sport clean and show that cycling has moved on since the Festina affair. But this idea has been his uncoming for in showing the sport to be clean has he had to ignore positive dope tests? Surely, to show the sport is clean is to not actually catch anyone? It is good to see in this instance that Paul Kimmage has lodged a criminal complaint against Pat for defamation after dropping a similar one against him! The time for playing softly softly is over, and a hard stance has to be taken, not just with the positive tests but from the teams as a whole. And for this we need someone new and even new staff.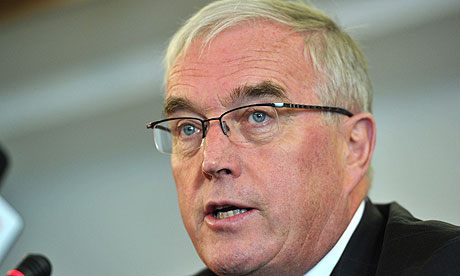 The pressure of doping can come in two forms. The one most commonly thought of is the plain cheat. The one who wants to win for themselves, be the best at the sport and damn what the rest think. There have always been these people in sport, and no doubt always will be. Then there are the teams that pressure their riders for better results to please the sponsors, the teams that will openly pay more to a rider if they dope.
In both instances I would propose that blame not be put onto just the rider but also the team managers and directeur sportives. Let me explain. If the leaders of the team were held more accountable for doping in the team then they would work more proactively to ensure it didn't happen or else loose their own jobs. Even for the rogue cyclist, doping would be harder if the managers were trying to catch them out. We need to removing the likes of Johan Bryneel who has had many riders dope under his control. Riders who no doubt doped and are now team managers is not always good news, particularly those that have got away with it for years.
I like what team Garmin have done with their approach to doping. They have ex dopers on the team yes but take a pro active approach against it. They now have riders who talk out against it which many of the peleton despite the talk since LA have remained silent. The Omerta remaining as strong as ever? Sky have taken a different approach and have made all riders and staff sign a contract to state they don't and never have been involved in doping. The result is they have lost big name staff such as Sean Yates. Is this what all teams should do? No, I don't think so. By threatening peoples loss of jobs they are driving the issue under ground and ex dopers that are young and still got a career in front of them will not come forward. I was all for the idea of an amnesty for riders to come forward but this has slipped away. Maybe the truth would have been to much? However, when people talk next year of teams being clean (and they will) will anyone dare say Team Sky is dirty? Maybe that is what David Brailsford is striving for. Teams we can start to believe and champions that we can say, "yeah he was clean" rather than the cloud of doubt left by so many previous yellow jersey cheats.
Americas golden age of cycling may have been something that never really was but at least they are talking. Why have so many of the Europeans kept quiet on the matter? Some of the Brits such as Cavendish and Wiggins have had much to say on the subject as of course has David Millar. But what of the French and Italians? The Spanish have been coming out in the last week. Indurain and Contador have shown support for Armstrong, which I felt strange. Was the USADA report not translated into Spanish? Who knows but other Spaniard Oscar Friere was more honest and linked Spain as being the dirtiest of the nations and wondered on the link there.
People say cycling is now clean. I say its not. It cleaner. But while new drugs are being developed and drug tests are being beaten then this problem will always emerge. New drug tests aren't the answer to stopping this, but removing the old doctors, making managers accountable, having the tech for team mangers to test their riders and punishments that will effect a riders career rather than season could well be. It needs to be explored but I seldom think it is. I keep having this gut feeling people are looking at the wrong thing. Happy just to blame but not make a proactive attempt to change.
I want to believe again. I want to cheer a winner and know he is really clean. Here's what History has to say. Lets hope the future is brighter.
Status of Tour de France winners
Years
Name
Status
Details
2012
Bradley Wiggins
Never tested positive
2011
Cadel Evans
Never tested positive
2007
2009–2010
Alberto Contador
Tested positive
Banned for two years
Named in Operación Puerto doping case, but later declared clean.
Tested positive during 2010 Tour de France for the banned stimulant clenbuterol. Suspended for two years. Andy Schleck named as winner by default

[

97

]

2008
Carlos Sastre
Never tested positive
2006
Floyd Landis
Tested positive
Banned for two years
Tested positive for high testosterone to epitestosterone ratio;

[

47

]

Óscar Pereiro named as winner by default - Clean but cleared after testing positive for salbutamol. In 2010 admitted to taking EPO, testosterone, human growth hormone and blood transfusions along with female hormones and insulin.
1999–2005
Lance Armstrong



Banned for life.

Retroactively stripped of all titles since August 1998.
Tested positive for glucocorticosteroid hormone without prescription given in advance.

[

98

]


Associated with Michele Ferrari, who is suspected of prescribing doping agents.

[

99

]


Allegations by former assistant for Androstenine use.

[

100

]


Alleged EPO use in 1999 Tour de France.

[

101

]


According to court testimony by former teammate, Frankie Andreu, Armstrong admitted to doping to his doctor when in hospital for cancer treatment.

[

102

]


Floyd Landis accused Armstrong of doping in 2002 and 2003, and claimed that U.S. Postal team director Johan Bruyneel had bribed former UCI president Hein Verbruggen to keep quiet about a positive Armstrong test in 2002.

[

103

]

[

104

]

[

105

]

Landis also maintains that he witnessed Armstrong receiving multiple blood transfusions, and dispensing testosterone patches to his teammates on the United States Postal Service Team.

[

106

]


Former team-mate Tyler Hamilton accused Armstrong of doping with testimony to a federal grand jury during an investigation of Armstrong.

[

107

]

Hamilton implicated that Armstrong had used EPO on the TV news show 60 Minutes.

[

108

]


Implicated in a massive doping scheme by findings by USADA in 2012. Consequently banned for life and stripped of all career titles since August 1998.

[

41

]

1998
Marco Pantani
Never tested positive
Banned for six months
Failed a blood test in 1999 Giro d'Italia.
Insulin found in his hotel room in the 2001 Giro d'Italia, but later declared clean "for not having committed any infraction."
Nonetheless, the UCI confirmed the suspension.

[

109

]

[

110

]

[

111

]

1997
Jan Ullrich
Never tested positive
Banned from the 2006 Tour
Retroactively stripped of titles 2005-2007.
Tested positive for amphetamines (off season, not taken for athletic performance gain)

[

112

]


Involved in the Operacion Puerto case. DNA subsequently linked to blood bag discovered during Puerto investigation

[

113

]

1996
Bjarne Riis
Never tested positive
Confessed doping use
Confessed having used EPO in 1996

[

114

]

1991–1995
Miguel Indurain
Tested positive
Never sanctioned
Tested positive for salbutamol in 1994, however both the IOC and UCI allowed Indurain, and asthma sufferers to use Salbutomol at the time.

[

115

]

1986
1989–1990
Greg LeMond
Never tested positive
1988
Pedro Delgado
Tested positive
Never sanctioned
Tested positive for probenecid in the 1988 Tour de France, although it was not illegal for cyclists at that time

[

116

]

1987
Stephen Roche
Never tested positive
Never sanctioned
According to an investigation in Italy into the practices of Francesco Conconi, Roche received EPO in 1993

[

117

]

1978-1979
1981-1982
1985
Bernard Hinault
Never tested positive
1983–1984
Laurent Fignon
Tested positive
In 1989 Fignon tested positive after a team time trial

[

118

]

[

119

]

[

120

]


tested positive for amphetamines at the Grand Prix de la Liberation in Eindhoven on 17 September 1989.

[

121

]

[

122

]

1980
Joop Zoetemelk
Tested positive
Tested positive in the 1977 (pemoline

[

123

]

), 1979 (steroids

[

124

]

) and 1983 Tour de France (nandrolon, although that was retracted later

[

123

]

)
1975
1977
Bernard Thévenet
Never tested positive
Confessed doping use
Admitted using steroids in the 1975 and 1977 Tour

[

30

]

[

125

]

1976
Lucien Van Impe
Never tested positive
1969-1972
1974
Eddy Merckx
Tested positive
Merckx has tested positive three times, but never at the Tour de France. He was expelled from the 1969 Giro d'Italia after testing positive for Reactivan.

[

126

]


He tested positive for Mucantil after winning the 1973 Giro di Lombardia. The drug was later take off the banned list.

[

126

]


In the 1977 Flèche Wallonne, Merckx tested positive for Stimul (pemoline), along with Freddy Maertens and Michel Pollentier .

[

127

]

1973
Luis Ocaña
Tested positive
Tested positive in the 1977 Tour de France (pemoline) 18st stage.
1968
Jan Janssen
Never tested positive
1967
Roger Pingeon
Never tested positive
1966
Lucien Aimar
Tested positive
Banned for one month
Missed the 1969 Vuelta a España due to a one-month doping ban.
1965
Felice Gimondi
Never tested positive
1957
1961–1964
Jacques Anquetil
Confessed doping use
Debated with French government minister on television, saying "Leave me in peace; everybody takes dope."
After winning Liège–Bastogne–Liège in 1966, was temporarily disqualified after refusing a drug test, saying he had already been to the toilet. He was later reinstated after he engaged a lawyer as the case was never heard.