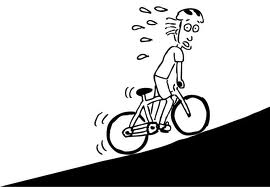 Well that's it. I went ahead and have entered my first 24 hour solo mtb race. My finger twitched on the button to apply long enough but now I've made the commitment and in exactly 4 months time I will be readying myself for the challenge of my life.
I'm feeling really excited about this mixed with the feeling of nervousness and a tad sick!! It's hard to get my head around what I'm expecting my body to do. I have in mind to do around 170 miles which is a hard target. Not a winning standard but my aim isn't to win. My victory will come in completing it. I'd still not want to come last so I'm going to have to train well and consistently.
So training is now underway, and already I notice how much I've let my body slip over the year. Random long ride outs just isn't enough to transform or hold my fitness so that is the first part to sort when dealing with my training. Like a lot of people, training time is restricted due to work and family so I will be looking at training most days during the week for probably only an hour or so to begin with. Weather isn't helping right now to getting out in the evenings so I'm hoping consistency will push my fitness rather than a couple of long rides in the week. My Saturdays will be the day for interval training followed by the Sunday which will be my long ride.
My long term goals is obviously to compete in the 24 hour race and also loose 20lbs in weight. This will be the first time I've had to loose weight to compete so that'll be interesting, my targets will be around 5lbs a month in weight loss although realistically with Christmas the first month my not go to plan and so more will have to be lost the months after. I'm a weak man when it comes to chocolate!!
I've now started writing down things that I will need to take with me to the race most of it centring around what to eat and drink. I think I will be using bottles so I can monitor my drinking better and do one lap with carbs in it and the next with water and electrolytes in it. I've worked out that with each lap I'd be burning off about 800 calories. This I have to try and sustain per lap or at least eat on my quick breaks between my two lap stops (this plan could all fall apart!) I've worked out that if I raced the whole thing I'd burn over 8000 calories, or 3 days worth of food! Still not sure what foods are going to get those calories but I have a feeling that they will centre around nuts and pasta.........not together though!!
Anyway, I'm off for a trail run tonight and going to do some core work giving me a night off from my turbo trainer. I'll need lots of encouragement in the next few months to get me through this winter!!!