With my new frame now bought it now time to add the other crucial part to the frame. The forks. Now my aim is to build up this frame as a SS and with simplicity in mind I have opted to buy a carbon rigid fork. I come from a long history in MTBing and started back many years ago on a steel rigid frame and fork, something which never really hindered me then. With all this bouncy stuff its easy to get a bit soft! I'm also aiming to get this bike as close to the 19lbs mark as I can which will be super light for a MTB.

The amount of carbon forks out there was quite surprise as was their prices! Some looked very nice like Niners forks with their curvy shapes and pretty graphics. But I'm going to be spraying them anyway so graphics don't matter. Some forks look like they have all come out from the same factory and vary little in weight but vary dramatically in price. Usually from £250 to £400.

However I came across these forks at CarbonCycles. They look similar to the more expensive forks and similar weights. Mmmm alarm bells. Could it be that if you put a brand sticker on it it goes up a couple hundred bucks? The eXotic carbon forks pictured below cost only £113. Which is cheap! They weigh 1.7lbs (0.79kg) with Alu steerer which is very light.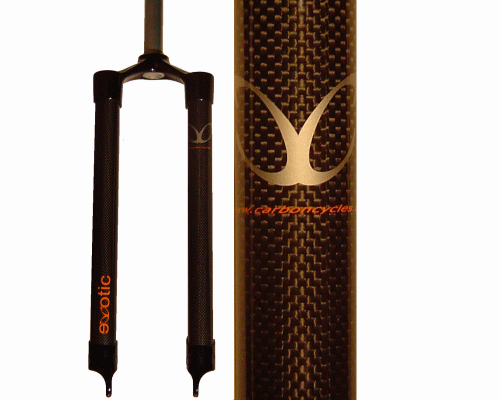 Obviously this seems to good to be true. So I've checked into them. Read reviews and tests and it appears that these are indeed the factory basis for many bigger name manufactures and are in fact sound and good quality forks.

Perfect!!

So who else is taking part in WIW?

I Love My Brooks Saddle
Trainin' on a Prayer
Merry*Death on a Bike!
Cycleofaddiction

If you want to take part then please go and see my Want It Wednesday page and follow the instruction to join.