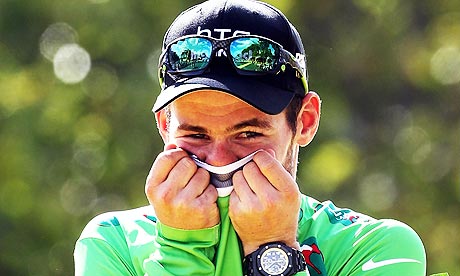 Wow. That was THE best Tour de France ever. Mark Cavendish in Green and his third win in Paris. First British rider to win the green and the our first jersey since Robert Miller won the polka dot jersey in the 1980s. Cadel Evans at the age of 34 (my age!) wins his first French tour after many years of trying and coming so close. First Australian to win it too.
Its been a year of great sprinting, mountain climbing, big attacks, terrible crashes, highs, lows. The close rivalry between the GC contenders has made it a very interesting race for once. So far its also had the bonus of not being over shadowed by drug tests and positive results, particularly when its the actual winner that is under question.
So that's it for me and tour commentary (which you may be glad to know!) I've a few things planned in the pipeline for this blog site instead though. Obviously my regular ramblings on what I get up to and like will be on here. I'm planning on getting fit again and perhaps start training again with the intention of doing either a few races or the very least a 24hour race!
I'm got some plans underway for doing bits on good places to go riding, with my first one on Hamsterley including videos under way. I'm going to continue with the occasional reviews as well, my next one being on my new crank bros eggbeater pedals.
I'm hoping to start a Linkie party as well for Wednesdays called 'Dream Bike Wednesday'. The idea being that you join and every Wednesday post up a picture of either your own dream bike, pieces of bike kit or something bike wise that you'd loved to own if you had the money!
Hope you've all had a good weekend, whatever it is you've done!
Jez